---
The Most Anticipated Games of Next Year
We've seen a lot of great games hitting the market in the last few years; and while not all of them were successful and others were marred in controversy, we can still be hopeful for the future, with a lot of exciting titles being released in the coming year. Many of these upcoming games are either long-awaited sequels or reboots to old franchises that are finally getting the care and recognition that they deserve, meaning that 2020 looks to be a very good year for gaming overall.
Many of these games have already had trailers released, while others have simply been confirmed through word-of-mouth. However they were revealed, all gamers can agree that if these games come to fruition, they will be worth the wait, and should offer a brief alternative to other hobbies, such as real money pokies Australia
Vampire: Masquerade – Bloodlines 2
Vampire The Masquerade – Bloodlines was one of the greatest successful failures in the gaming world. When it was first released on PC in 2004, it was a technical mess: it was laden with countless bugs, parts of the game had not been completed, and it sold extremely poorly, pushing the developer out of business. Despite this, its script, atmosphere, and unique setting made it an instant cult classic, and many members of the community banded together to try and put the game together, keeping it alive since. Developer Hardsuit Labs has decided to try and make a sequel to be released in 2020, and from what we've seen, they are going to do the franchise justice, going so far as to enlisting writer Brian Mistoda, who had written for the original.
Dragon Age 4
Dragon Age has been a fan favourite for over a decade, and it's a series that reached its peak with Dragon Age: Inquisition, which has been named as one of the greatest RPGs of all time. Since then, there have been rumours of the next Dragon Age being released, although information has been slim at best, although a brief trailer was shown during The Game Awards' 2018. The trailer didn't reveal much, but it seems that the story will continue with Solas, one of the main characters from DA: I, who was revealed to be an elven god of betrayal at the end of the game's final DLC.
System Shock
The ancestor to the incredibly popular Bioshock series, System Shock was set in a unique universe that saw the player battling it out against a range of alien enemies. But System Shock wasn't as popular as the developers had hoped it would be, despite it proving that games could tell deep and interesting stories long before the likes of Metal Gear Solid and Half-Life. But a remake is in the works, which was originally revealed thanks to a Kickstarter created by Night Dive Studios who hope to expand on the scope of the original and bring it into the modern era. Although the release date has been pushed back, it's very much in the works.
---
Empowering Girls Through Art and Music
While there have been great strides made in gender equality, there are still challenges that need to be faced. One way to ensure a more just and happy future is to empower young women and girls to share their gifts and talents and to express themselves through music and art. Unfortunately, schools these days often lack the resources and staff needed to provide all young women and girls with a complete education in visual arts or musical expression. Don't let that stop you from making sure that the young women and girls in your life have the opportunity to learn. Here are few ways that you can empower the future women in your life to express themselves through art.
First, if your local school does not provide an adequate education in music and art, look into studying at home. Thanks to the many resources available, it's easier than ever. For example, if you're interested in learning to play a musical instrument, consider purchasing music workbooks from a professional music instructor like CR Carole Music. While it's best to have one-on-one instruction occasionally, most the practicing and learning can be done at home. This also saves money and allows families who otherwise couldn't afford it to access this wonderful gift.
To encourage the young women and girls in your life to explore the visual arts, consider purchasing them art supplies. The most useful supplies for a young, budding artist may be as simple as paper, colored pencils, ink pens, pastels or clay. As they gain more experience, you can also encourage these young people to try their hand at different subject matters and styles. Don't forget that photography is a popular art, especially for young women. Share books about art with them, and discuss the variety of ways that they can express themselves through art.
Finally, share art and music appreciation with these young women by taking them to experience it first hand. Visit an art museum, go see a jazz concert, take in a play or musical, or visit a sculpture gallery. Talk about what you've seen together and how it makes you feel. Nothing engenders art appreciation like seeing it in person and sharing it with someone you know and respect.
Art and music can make a huge impact in a young woman's life. Help empower the girls around you to embrace it.
---
You Can Use the Internet to Advertise Your Musical Management Skills
If you are involved in the music business, you can't help but notice that things have altered. The changes that have affected the entertainment industry have been vast and sweeping. They have occurred in a staggeringly short amount of time. From the earliest days of the Napster controversy, the issue of "illegal" versus "legal" downloads has been one that has seen the very base model of the industry alter irrevocably. Faced with the issue of adapting to such unforeseen change, many managers have had to completely rethink the way in which they do business. This is a transition that has since become permanent.
The Internet is the Destroyer and Savior of the Music Industry
Like many another double edged sword, the world wide web has brought both crushing death and the promise of new life. The music industry was sent reeling with the unveiling of digital download technology. The price of compact discs, once sailing high at nearly 20 dollars each, has plummeted to an average of $10-$12. As a result, the income received from musical recordings is no longer quite the bonanza it was even a decade ago. Music recording companies and musical acts alike have had to look for a whole new stream of income in order to replace their lost revenue.
The World Wide Web is the Source of a Whole New Audience
Savvy managers, such as Coran Capshaw and others, have found their salvation within the very medium that nearly brought the music business to its knees: The internet. Thanks to the unprecedented worldwide reach of the web, managers have been able to advertise their up and coming acts to a completely new audience. Hundreds of millions of people surf the web on a daily basis. Many of these people are searching for exciting new music to listen to. By giving their artists a new level of exposure on the web, these managers are able to procure for them a completely new audience to base their appeal to.
Using the Internet as the Perfect Testing Ground for New Artists
The internet is the perfect place to test market brand new artists. Managers, such as Capshaw and many others, have been able to use the power of social media to bring their artists to a worldwide level of exposure within a very short amount of time. By creating pages on Twitter and Facebook, as well as musical programs such as Bandcamp, they have given new acts a completely safe and profitable platform from which to advertise their wares. While the income that can be derived from such programs is negligible compared to what they may have received from a physical CD release, the exposure is far greater.
The Future of the Music Industry Can Be Found on the Web
There is no doubt that sweeping changes will continue to affect the music industry. By using the power of worldwide exposure via the web, managers can guide the careers of their acts to a bright and prosperous future. This future will depend on the ability of both the acts and their managers to stay abreast of rapidly changing cultural and technological trends. One thing is sure: The internet will remain the best place to do business.
---
The Future of Entertainment
By Charles Moffat - August 2009.
The future is well-nigh here.
Imagine being able to watch television any time, any where, any show you want, without the advertising.
YouTube is just the beginning. It is a sneak peek at the future where video downloading is instantaneous and (for the most part) ad free. Remember downloading mp3s on Napster (see Napster Revolution)? Well Napster was another peak at the future wherein entertainment is free and often user-driven or user-created.
And its not just television or music. Its also movies, video games, books, gossip/news, sports, internet browsing and everything else you could possibly want in the palm of you hand. And all this will be based on a subscription or subscriptions to specifics websites or networks.
Lets take the popular MMORPG "World of Warcraft" as an example which has broken many sales records. In 2007 the game had over 8 million worldwide... and that number continues to grow. In Summer 2009 there is now 11.5 million active users and has 62% of the MMORPG market, which means there is approx. 20 million MMORPG gamers world wide. Other games like Dungeons & Dragons Online, Age of Conan, Shaiya offer similar fantasy oriented environments. And that is just one genre of online gaming.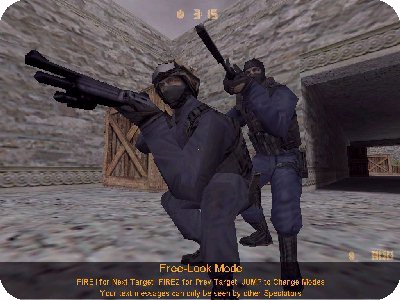 There is also violent video games like Counter-Strike, Half-Life, Halo, strategy games like Chess, Backgammon, classic board games, simulation games like the Sims, Second Life and many other game genres that rely on a subscription or a download price.
For movies there is already services like NetFlix (and tonnes of other sites) and there are many other sites available for whatever your interest is...
But the real clincher is the issue of mobility. Not only do we have new technology like BlackBerry (see CrackBerry BlackBerry) and XO Laptops (see The $100 Laptop), but laptops and other mobile devices are becoming smaller and cheaper. SmartPhones, iPhones, mini laptops, wireless surfing on your cellphone... the sales of such devices is skyrocketing worldwide.
Broadband demand rises every year, sometimes attaining 10% or more growth in specific regions. The biggest recent jump was in 2006 when the worldwide telecommunications market grew 11.2% to $3 trillion USD overall. A 2007 report by the Telecommunications Industry Association estimates 87% of internet users will have broadband access by 2010. Within that wireless revenue is expected to makeup 25% of the market by 2010 (compared to only 10% in 2006).
"Consumers are thirsty for broadband, and this report shows carriers are rushing to meet the demand," said Grant Seiffert, TIA president.
And then there is the matter of simple telephone service. Services like VOIP, Skype and similar unlimited phone calling are growing in popularity and industry experts say they will eventually become the norm.
But what are giving up here?
Standards for starters... because the technology to distribute such entertainment is so readily available now, the ability to create such things is also widely available. Our cellphones have video cameras on them.
The problem however is that the quality of such video is horrible and the people creating such things are mostly amateurs. Very few people actually have training. We're reached a point where ANYBODY could make a reality TV show... and post it on YouTube.
In theory the quality will go up as the technology gets better, but this will never fix the amateur antics of a lot of the videos posted on YouTube. What is needed is more website and books on how to make good quality video, cinematography, sound/video editing and skills that many YouTubers are sorely lacking. Some of this hack quality skills have even crossed over into main stream television, a fact which further degrades TV's quality as a medium of entertainment. True, amateur videos can be quite funny, but who really wants watch blurry video that is badly cropped, barely edited and the sound is crap? Oh and the people acting are no talent hacks looking like they are doing a high school skit.
I have no doubt that the quality of online entertainment will improve given time, but there will also be a sea of amateur videos that clog up the internet with dogs sneezing, teenagers kissing and adults getting drunk / acting stupid.
Sure, we will be able to view it wherever we are whenever we want, but we need to maintain professionalism and standards.
The Future of Sports Entertainment
By Charles Moffat - April 2013.
I apologize in advance for ranting a bit. You've been warned!
Reality TV shows really set the bar low when it comes to entertainment. Usually its average joe people running some kind of silly obstacle course race, pitting themselves against other average joes - some of which might be more physically fit and thus have a physical edge on the competition.
Budget wise its super cheap to produce too. No need to hire actors. Just need to screen the idiots willing to be on the show for criminal records, hire a host / narrator, offer some big reward, and then sit back and let the cameramen chase the fools around doing whatever silly tasks they have to do.
Reality TV? Pff! How is any of that nonsense real?
Yes, okay, its "real" people instead of actors - and no stunt actors either. But trying to call shows like Survivor, Amazing Race, Big Brother, etc "reality" is no more real than anything else that is a performance - because its "real" people still playing out a role. They know the cameras are on them. They probably have some drama experience from highschool (or they're just really good at faking it because naturally good liars)... Ergo, they're still acting.
Now when it comes to real sports - football, baseball, basketball, soccer, hockey, rugby and so forth there is no acting there... Or is there? I admit every time I see an injured football or soccer player on the field and 5 minutes later he is walking around, totally uninjured at all, that isn't so much acting as the guy wanted a break so his team could have a brief rest period to rethink their strategy and catch their breath.
Because if they don't then the referee just blows his whistle and the game resumes.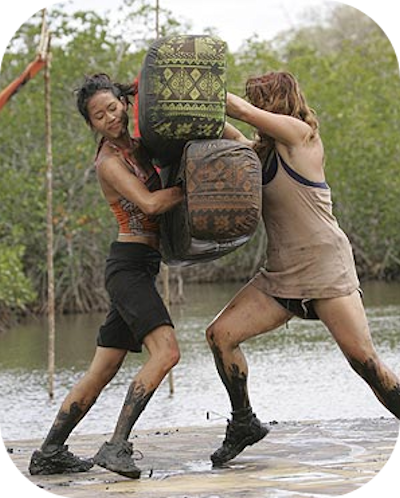 So yes, there is certainly faking going on in professional sports too.
And we see it again and again whenever a reporter interviews an athlete. A typical athlete response will be:
"Well you know I am all about trying my best and being out there, giving 110%, but today, you know the other team just gave 115% and... yada yada yada... we lost somehow because the other team was better."
Honestly it would be nice if athletes answered questions honestly for a change instead of spouting rhetoric in the same manner a politician does (politicians are another group of skilled actors / liars).
It does happen sometimes. One of the greats at actually being honest during an interview is Mike Tyson (who will openly admit to his own problems) and say things like "Who cares? We're in a fight anyways. What does it matter?" when asked about whether he takes his rage into the ring with him.
And do you know why Mike Tyson is so honest? Its because he is angry. People when angry have a tendency to tell the truth. They're not acting any more, they're not spouting rhetoric or lies. They tell the truth because they're fed up with the nonsense.
And while I may not like Mike Tyson as a person, I can still respect the fact that he is honest when he is being interviewed. (Note: That doesn't mean he is always honest. If he is in a good mood he probably does lie a fair bit because he isn't feeling angry any more.)
Which comes back to my original reason for writing this: The direction that modern sports entertainment is going is in the direction of entertainment and acting. Acting is an ever increasing part of professional sports.
Remember the WWF (World Wrestling Federation)? Or as it is now called, the WWE (World Wrestling Entertainment, Inc.), a company which showcases "wrestling" as entertainment, but it is really more of a soap opera with no resemblance at all to traditional (Olympic style) wrestling. Well the WWE was founded in 1952 and has gone through many changes over the past 61 years. It is a big business now with over $3.3 billion in total assets and annual revenue of approx. $650 million.
And its all an act. True, the injuries are real, but primarily the wrestlers involved in the WWE are actors. Many of them even go into professional acting careers, including Dwayne "The Rock" Johnson, who showcased his acting abilities in films such as The Scorpion King, Get Smart, and most recently G.I. Joe: Retaliation. And will play Hercules in an upcoming film due out in 2014.
Now take this in perspective, if the WWE has gone towards becoming a soap opera, what about more recent developments MMA / UFC?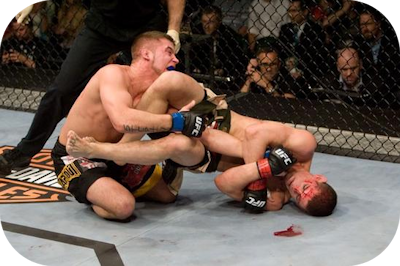 UFC (Ultimate Fighting Championship) is a rival to the WWE in many ways because its focus is on mixed martial arts and incorporates wrestling, boxing, Brazilian Jiu-Jitsu, Tae Kwon Do, Muay Thai, karate and many other styles. In many ways it is more like boxing because it isn't an act. The competitors aren't acting when they are in the ring, nothing is faked.
But like boxing the promos, saying their lines before a fight... well, that is acting. But its kept pretty much to a minimum because its expected for them to have a scripted speech that can be used as a promo before the fight. (Often the fighter may not speak English very well and will have to read off a teleprompter script in English just for viewers in English speaking countries, and repeat the process in other languages.)
So knowing that various sports are just going in that direction, what can we predict for the future?
#1. More scripted interviews - because athletes cannot be trusted to talk on their own sometimes.
#2. More sports where everything is planned out, right down to who wins and how. 100% faked.
#3. More violence and sexploitation in sports. (Because it gets higher ratings, sells more tickets and people aren't paying to watch PPV that much any more when they can just download a sporting event instead.)
#4. More sports that mimic reality TV shows (or reality TV shows that mimic sports).
#5. Relatively boring sports will get jazzed up a bit.
I think I need to explain this more because I didn't really touch this topic above. Example: Archery is a boring sport to watch. It is because it is over too quickly. Each round gets 3 arrows, the competition has multiple elimination rounds, until two archers make it to the finals. Really, its very boring to watch. But imagine if they changed the rules dramatically? Imagine if the targets moved around while shooting at them? What if there were cheerleaders distracting the archers and messing them up mentally so they can't concentrate? Oh what a more interesting sport that would be then...
I think that is why hockey has so much fighting in it. If you've ever gone to a hockey game and you don't see a single fight, chances are likely you will think the hockey game was pretty boring.
#6. Many televised sports can't live without sponsors. So we should see a lot more sports that are "owned" by sponsors.
Example! Companies like Red Bull are sponsoring sporting events like crazy. Red Bull (according to my last count) sponsors 17 different sporting competitions. It has reached a point where companies aren't just limiting themselves to competitions either, they're also sponsoring academic research. eg. The Gatorade Sports Science Institute.
#7. Seemingly inexplicable new sports will appear and garner support... and later disappear... or be purchased as a franchise.
eg. The Pillow Fight League (PFL), which appeared years ago, is currently for sale. The people operating it are apparently looking to sell the intellectual property rights / etc to a sponsor. Wanna bet that Red Bull will purchase it?
I could keep ranting but I think I have made my point.
The sports entertainment industry is going to continue changing towards anything that is more lucrative financially. Maybe someday we will even have "Deathrow Gladiator Fights" and other things that violate our very sense of morality - but will be so intensely popular because they will essentially be snuff films on your TV set. Honestly, football, hockey and boxing already kills quite a few athletes already. More if you count spectator sports like Nascar. So it really isn't so different when you consider we already have sports that kill people.
Even the Luge is deadly (the 2010 death of Luge athlete Nodar Kumaritashvili during a practice run for the 2010 Olympic Games).
So ultimately, violence appears to be the direction that sports entertainment is going? Anyone care to disagree with me? Start your own sports rant website and write a retort.