Second soloist Bridgett Zehr and first soloist Keiichi Hirano of the National Ballet of Canada have been chosen to compete for the Erik Bruhn Prize, an international competition that features future stars of the ballet.
Most winners of the competition, to be staged in front of a live audience at the Four Seasons Centre for the Performing Arts in Toronto, go on to become principal dancers.
The Erik Bruhn Prize is named after the great Danish dancer and choreographer who was director of the National Ballet of Canada from 1983 to 1986.
A male and female dancer, aged 18-26, competes from four of the world's most prestigious ballet companies: the American Ballet Theatre in New York, the Royal Ballet in London, The Royal Danish Ballet in Copenhagen and the National Ballet of Canada.
National Ballet artistic director Karen Kain selected the Canadian contestants.
Zehr and Hirano will dance the pas de deux from Le Corsaire as their classical entry. A new work from Canadian choreographer Sabrina Matthews has been commissioned as their contemporary entry.
Yao Wei and Ulrik Birkkjær of the Royal Danish Ballet, dancing a new work by British choreographer Tim Rushton and an excerpt from Bournonville's Flower Festival in Genzano.

During the judging, The National Ballet of Canada will perform Voluntaries by the late Glen Tetley. The company also will honour Tetley, a leading Canadian choreographer who died Jan. 26, before the performance.
---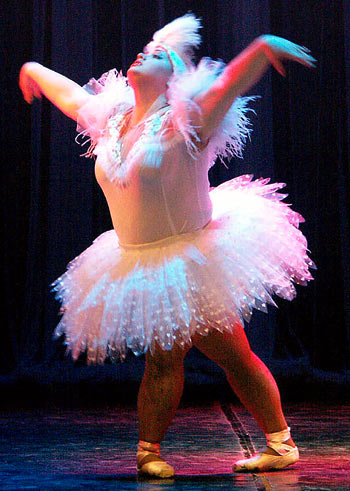 Sugar plump fairies - the super-sized Russian ballerinas
Sarah Chalmers - February 5th 2007.
Thundering onto stage, their size-22 costumes straining at the seams, this troupe of outsized dancers are, quite literally, the biggest ballet stars you are ever likely to see.
They may lack the finesse of Margot Fonteyn or the elegance of Darcey Bussell, but these hefty divas (average weight 20 stone) are on a mission to turn the dance world on its head. And woe betide anyone who stands in their way.
They are the stars of The Big Ballet - a unique Russian dance troupe who are about to embark on their first UK tour.
Founded in 1994 by renowned choreographer Evgeny Panfilov, the company's aim is to challenge modern conceptions of grace and nimbleness.
Panfilov, who had built up an impressive reputation leading regular dance troupes, wanted to show that skinny people do not have a monopoly on dancing - and to prove that untrained beginners can be turned into professionals.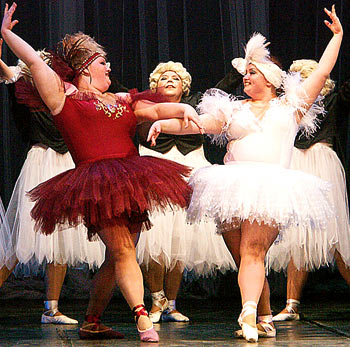 Initially, he advertised for teenagers weighing more than 12 stone to audition. But demand for places in the extraordinary troupe is now so high that the weight threshold has been raised to over 17 stone.
In a direct reversal of the slimming-obsessed world of mainstream ballet, any of these girls falling below the recommended minimum weight is offered the chance to regain the extra pounds with the help of a nutritionist.
If they do not, they must relinquish their place for another, larger dancer.
Today, the troupe consists of 16 large women aged between 19 and 28, and six regular-sized male dancers.
But while the leading ladies may be large, they are also surprisingly agile.
"They're really very fit and supple, there's no breathlessness and there are medics on hand to make sure no one is straining their heart or joints," says UK tour publicist Dion Clements.

Along with pirouettes and plies, the dancers even manage the splits - "surprisingly easy to do when you have 120 kilos of down-force", says leading lady Tayana Gladkaya.
In some performances, they are even lifted by the male dancers - although it should be noted that it takes four men to get one woman aloft.
During practice, the dancers use exercise machines to keep themselves supple and their costumes have to be customised to each dancer's measurements (averaging 47-39-47).
Other than that, they say they perform and train as any traditional troupe would.
For their UK tour, they will be performing a parody of traditional excerpts from The Nutcracker and Swan Lake, together with more modern routines set to hits including
Tom Jones's Sex Bomb and the Pet Shop Boys' hit Go West.
None of the members takes themselves too seriously and part of the aim is to make the audience laugh.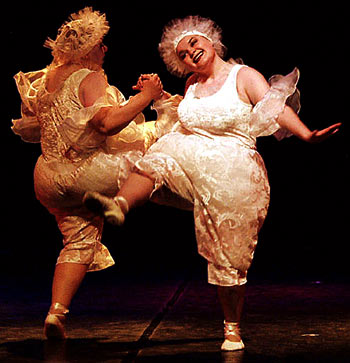 But despite the light-hearted approach, there is a serious message.
In an age when anorexia is being diagnosed in ever-younger children and Hollywood is obsessed with the size zero, The Big Ballet gives inspiration to those whose body shapes will never conform to the stick-thin images usually seen on stage and screen.
One member, Katya Yurkowa, says: "From childhood, all of us were large and often taunted as children. I've always loved to dance, so Big Ballet was a great opportunity for me.
"It's hard being teased your whole life then finding the confidence to go on stage and perform in front of so many people, but now I have it and I am so happy.
"We hope we are helping to change the public perception about larger people and encourage big children to take part in sport and dance."
So far, the company have received rave reviews, won over their audiences and even impressed fellow professionals.
"Other regular troupes appreciate the work they put in and how technically difficult some of their performances are," says Dion Clements.
The UK tour, which begins at the end of the month, will see the company give 30 performances at 27 venues across the country. The Big Ballet, it seems, is on a roll.
---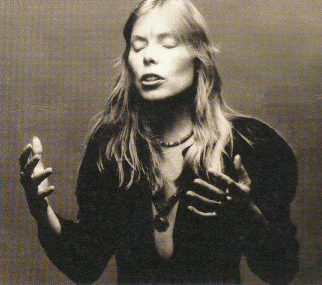 Joni Mitchell Collaborates on New Ballet in Canada
Vivien Schweitzer - February 5th 2007.
Joni Mitchell's latest venture, a ballet set to her own music and artwork, has attracted huge interest in the run-up to its opening on February 8 in Calgary.
The 63-year-old singer-songwriter, environmentalist, painter and icon has joined with the Alberta Ballet Company to produce The Fiddle and The Drum, which will be performed a total of five times in Calgary and Edmonton.
Jean Grande-Maitre, artistic director of the company (which only produces five shows a year), told the Canadian Press, "We're seeing interest in the creation of a ballet unlike anything we've ever seen in the history of the company, actually." It's also reportedly been overwhelming for the notoriously media-shy Mitchell, who was inducted into the Canadian Songwriters Hall of Fame last month.
The ballet, a semi-abstract, narrative work in neo-classical style, is 47 minutes long and features nine songs by Mitchell, who recently began writing again after a ten-year hiatus. The production includes two new songs: If, based on the Rudyard Kipling poem about war and stoicism, and If I Had a Heart, I'd Cry.
The rest of the ballet, named for a 1970 antiwar ballad from her second album, Clouds, reportedly incorporates songs from her 1980s and 1990s recordings.
The production explores environmental issues and violence, from the Vietnam War to the present. Mitchell, who has also worked as a painter since the 1980s (although she rarely shows her artwork in public) has spent around100 hours on the ballet, according to the CP, creating a video installation that will be projected on three large screens above 26 dancers, who will be almost naked and painted jade green.
Grande-Maitre told the CP that he wrote to Mitchell nearly a year ago but was more interested in collaboration than just obtaining the rights to use her music. "Joni Mitchell has always loved ballet and dance, and being involved in this way interested her a lot."
According to The New York Times, that letter from Grande-Maitre read "Please forgive my somewhat imperfect English as I am a native of Quebec and I am still brushing up on this new language. Next year will be Alberta Ballet's 40th Anniversary Season and as Artistic Director, I would be enthused by the possibility of choreographing a ballet to your brilliant and profoundly moving music."
It has been a busy year so far for Mitchell: Flag Dance, an installation of her antiwar mixed-media art, just finished a two-month run at the Lev Moross Gallery in West Hollywood, and she has recently recorded songs for a new album, which she plans to call either Strange Birds of Appetite or If, according to the Times.
"I'm working three shifts," Mitchell told the paper. "I'm doing the work of four 20-year-olds. Between the art show and the ballet and the new album, I've never worked so hard in my life.
"Humbly I hope we can make a difference with this ballet," the paper also quotes her as saying. "It's a red alert about the situation the world is in now. We're wasting our time on this fairy tale war, when the real war is with God's creation. Nobody's fighting for God's creation."
---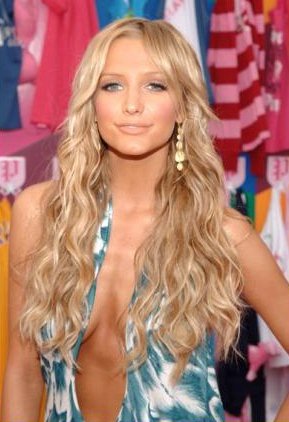 Ashlee Simpson blames her stint at ballet for her pre-teen anorexia
May 12th 2006.
Ashlee Simpson has blamed her stint at ballet for her pre-teen anorexia.
Talking about her experiences she said that it was "all about image and weight", and that it was a lot of pressure at a very young and impressionable age reports DigitalSpy UK..
The singer has turned her back on these early worries, but admits her family were shocked at how thin she had become after a period at New York's School of American Ballet.
She said: "That was a brief thing. As soon as my mom saw me she was like, 'We are going to eat steak and French fries!'
"It's all about image and weight and you're talking about it all day. But it's not anything I worry about anymore."
Meanwhile, when asked about the widespread speculation – on the Web and in tabloids – that's she's had a nose job, the 21-year-old singer giggled and told the Associated Press: "Everybody's already saying it, so I just don't talk about it. I'm like, okay, whatever. It doesn't bother me."
Yet when the news service pressed to get her to confirm or deny the rumor, Simpson did neither – she just giggled more reports People Magazine.
"Maybe," she said. "Who knows!"
---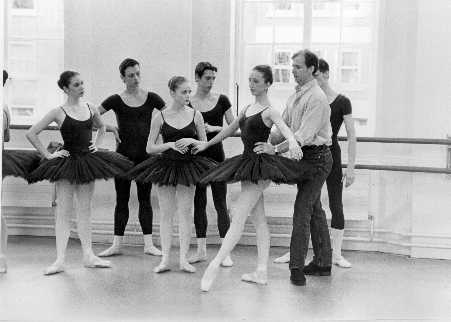 Garner's Study of the Psychological Factors of Anorexia Nervosa
Aims: To investigate whether cultural pressures to be thin are important in triggering eating disorders.
Procedures: A group of 11 - 14 years olds in ballet school were the participants. They were assessed for 2 years to discover how many of them developed eating disorders. Students in ballet school were chosen because there, the pressure to be thin is immense.
The study was conducted in a ballet school where there is pressure to be thin.
Findings: 25% of the girls got anorexia nervosa. This compares to the average of 0.5 - 1% of the average population that gets anorexia.
Conclusion: Cultural pressures to be thin are influential in the development of eating disorders.
Evaluation: This study SUPPORTS the claim that eating disorders may be partly caused by psychological factors.

This was an OBSERVATIONAL study, which carries HIGH ECOLOGICAL VALIDITY, but cannot control CONFOUNDING VARIABLES.
It ignores the fact that OTHER FACTORS, such as genetic predispositions, may have increase the risk of the participants getting anorexia.
The STRESS-DIATHESIS MODEL explains this points better, stating that someone may have an underlying genetic factor, that is only triggered by an environmental factor (which may be the pressure to be thin).
Other Points: The idea that pressures to be thin in Western cultures play a part in eating disorders is supported in studies conducted on groups of people for whom slimness is essential, such as ballet dancers and gymnasts.