Online Strategy & Roleplaying Games
The Entertainment eZine - Online Gaming
---
This Website is Best Viewed Using Firefox
PLAYTESTERS' NOTES
LAST UPDATED DECEMBER 2011.
Our playtesters (Charles Moffat, Aleisha Watson and Suzanne MacNevin) have tested out a variety of online games, and continue to look for the best games and we're here to show our results. If you'd like to help playtest games/review them feel free to contact us with your results.
Strategy Games
Battle Pirates





Battle Pirates is a futuristic pirate simulation game which combines strategy with ship warfare. Available on Facebook, Battle Pirates is highly addictive and leads to hours of fun / frustration fighting against your neighbouring pirates and evil draconian pirate hordes.
You can commit as much time as you want to this game, either playing constantly or just a few minutes per day. You can also skip over various weapon and ship upgrades if you want to speed up your level progression in the game. (Researching every weapon, armour and ship type is not a necessity.)
Researching and building things requires time and resources, so a good tip is to spend most of your resources on upgrading your resources early in the game. It will give you way more in the future. By the time you get around to researching and building the important things you will have ample resources and won't have to spend so much time salvaging, mining or attacking enemies for their resources.
Facebook has many similar strategy games, but Battle Pirates is the one we like best.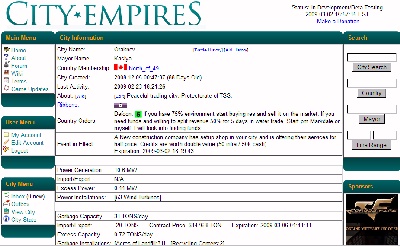 City Empires


City Empires is a text-based strategy game that is all about building up your city, joining a country and attacking other cities. In theory this game could be a lot of fun, but the countries have developed alliances (aka The Secret Society, East India Company and other groups) which discourage attacking other cities because if you do they all gang up on particular city in one devastating attack.
The game is very slow and really only requires about 10 minutes per day to play. As a result the game is quite boring and has a high rate of players forgetting or quitting.
Update 2011: This game also suffers from a game imbalance between the different countries. During wars many players quit because there is an inadequate system for settling disputes and creating ceasefires. Wars should be given an absolute time limit. The game administration also behaves like Mini Mussolinis so don't expect any fairness in terms of the gameplay.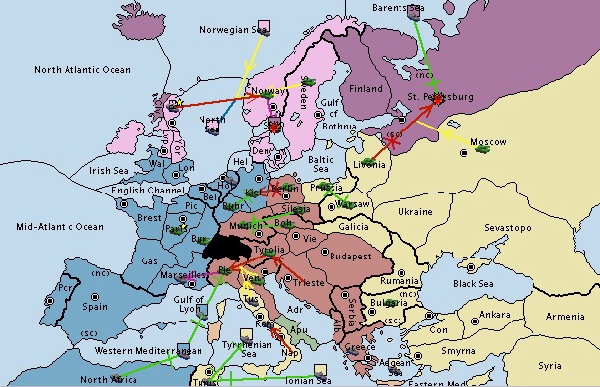 Diplomacy





Whether you use phpDiplomacy or Facebook Diplomacy its the same system, based on the classic board game about conquering Europe with armies and navies. Diplomacy is a turn based game about negotiating with your neighbours and then backstabbing them. Right away the game has a disadvantage compared to the board game because the submission of combat orders is done secretly online, whereas in real life players can write their orders together (good for building trust), see other players talking/planning and plan accordingly.
The game has several design flaws (Italy and England get shortchanged regularly) and online the backstabbing/bickering tends to get quite personal as people attack and betray each other in order to win. For people who like games which are all about being the most devious scumbag, this is a game for you.
The game is a lot of fun, in an asshole sort of way, but online play has one major flaw: Players with multiple accounts. This could be remedied by the designers if they switched to a login system which only allows one IP per user. People also tend to invite their friends to this game, so don't be surprised if you get ganged up by multiple people.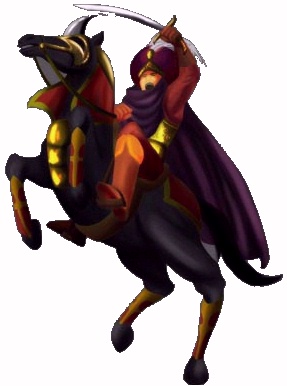 We will point out however that you cannot win this game without allies. A friendly personality, some psychology and good strategy helps. Making friends (at least temporarily) also helps.
Kings of Babylon





KoB is like an Arabian version of Diplomacy, but is a text-based strategy game and relies more on building up your villages / attacking others with mameluks, paladins, archers, soldiers and spies. This can be a slow process building up your villages, but combat is fairly fast as you can raid nearby villages and steal their stuff.
Kings of Babylon is also a bit like City Empires in that you join a Realm and help other people in your realm, but unlike CE this doesn't discourage attacking others. Often you can just pick someone the same size or smaller than yourself and just start spying and attacking them. For strategy purposes spying first is a must, and spies are quick to train and good for both defending from spies and spying on others. Building a large spy network and coordinating spying works wonders.
Samurai of Legend




Samurai of Legend combines strategy with roleplay, using a text-based system and statistics to level up your samurai, gain loot and property, and become the top samurai. The game revolves around committing crimes (this feels more like a ninja game) and busting allies out of jail when they get caught. There is no real winning the game, just being the best. Depending on the person this could be boring, but some of our playtesters really enjoyed it.
Tribal Nations



Tribal Nations focuses on individual Aztec-ish tribesmen going to work and building up their properties. Like Samurai of Legend there's no real winning the game, just building up the tribe's village.
Tribal Wars



Tribal Wars takes off where Tribal Nations leaves off. Instead of playing individuals, you control the village and build it up and attack other villages. This game is set in the European Middle Ages, so its more like Kings of Babylon in that there's different feudal groups operating. The name of the game is confusing because they're not really tribes but feudal knights.
Roleplaying Games / MMORPGs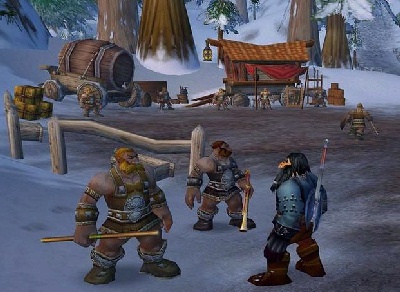 World of Warcraft





WoW is the best known and the most popular of the MMORPGs, largely due to a huge fan base amongst children and Asians. The game is a roleplaying adventure game, but very little actual "roleplay" actually goes on. Its more of a kill everything and take their loot kind of game, with touches of Japanese Anime in the graphics. World of Warcraft is largely based around slayer zones (running around and killing random monsters), but also has a variety of quests.
Endless Online



This is a childish/Japanese Anime version of WoW. Its free and good for kids, but the graphics are shoddy, moving around is a pain in the butt and largely a huge waste of time with very little enjoyment for the effort.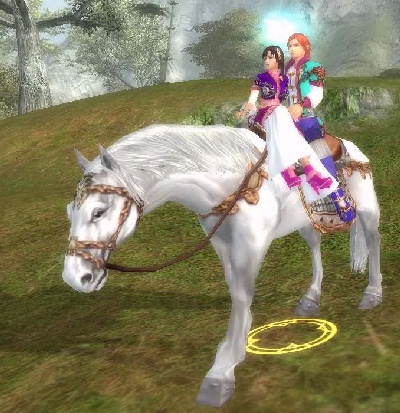 Perfect World





Perfect World is a free alternative to WoW. Free to download and use, optional to buy (which gives you better armour/etc). Perfect World has riding pets from horses, dragons, flying manta rays, dinosaurs, etc. which is nice. Like World of Warcraft the game is largely based about slayer zones and has relatively few quests.
Runescape




Runescape is another internet browser-based version of WoW, with graphics that look like The Sims I (see below). You can upgrade to a member's account, but that doesn't change the fact that it has shoddy graphics and is rather boring. Moving around in the game is also a pain in the butt.
Shaiya





Another MMORPG, the graphics of Shaiya look wonderful, but character customization is nil. Everyone looks practically the same in this game. The game has both quests and slayer zones, is free to join.
This game is also quite beautiful to look at it. The graphics feel like a Final Fantasy movie. If you don't mind the fact that there is limited hair styles, clothes, armour, etc. its still a fun game to play.