Pamela Anderson
breaks up with Kid Rock and focuses on PETA
The Entertainment eZine - Celebrities
---
This Website is Best Viewed Using Firefox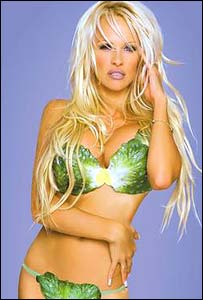 Since Pamela Anderson's split with Kid Rock in 2006 she's been seen flirting with George Clooney and has been busy focusing on PETA.
Pamela Anderson teams with Santa Cruz markets to fight animal testing
By Genevieve Bookwalter - January 29, 2007.
It's not every day The Food Bin and Staff of Life team up with Pamela Anderson.
No, the former "Baywatch" star did not stop by the independent markets to promote her centerfold in this month's "Playboy" magazine. But the natural grocery stores followed the buxom blonde's lead in boycotting POM Wonderful Pomegranate juice because the product was tested on animals. In return, the Los Angeles-based juice company sent a letter to retailers Jan. 17 announcing it would no longer fund the tests, and People for the Ethical Treatment of Animals spread the news Thursday.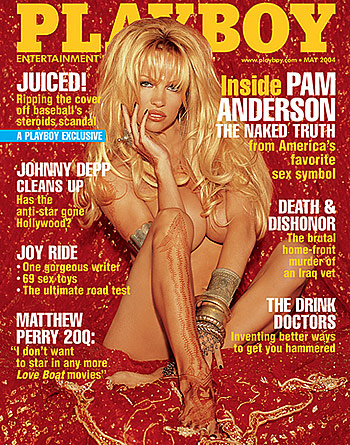 In response to the mounting pressure, POM officials "have completed all their experiments that include any animal testing and they're not going to do it any more," said Seth Faison, spokesman for POM.
The letter came the same day natural-food giant Whole Foods announced it would stop stocking POM juice if the company didn't cease its animal testing by April 1.
For years, the Los Angeles-based POM Wonderful has paid for testing on animals to study the antioxidant qualities of its ruby-colored drink, Faison said. Critics accused the company of rendering rabbits impotent "a condition rabbits don't suffer from naturally," protesters said and killing baby mice. In POM Wonderful's letter to retailers, company leaders said the rabbits were part of study to determine pomegranate's effects on erectile dysfunction. Other tests involved research on birth defects, prostate cancer and arteriosclerosis, the letter said.
Still, Gabe Dickinson, owner of The Food Bin, said POM is not the kind of product his store wanted to stock.
"It's good for people to know that POM Wonderful is not the only thing out there. They just have the cute packaging," Dickinson said. POM Wonderful sells its juice in curvy glass bottles, some shaped like a heart.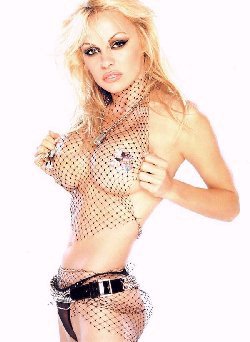 But Faison said the tests were conducted at leading research universities following strict procedures. He also criticized the animal-rights activists, some of whom he said threatened to kill the family of POM Wonderful's previous spokeswoman, prompting her to resign. Members of the Animal Rights Militia falsely announced that they had contaminated almost 500 bottles of POM juice up and down the East Coast, terrifying consumers, Faison said.
"It was terrible. It's scare tactics, crazy, not to mention a felony," he said.
PETA spokesman Bruce Friedrich said the group was thrilled to hear of POM Wonderful's decision. On Thursday, Anderson made it the top news on her flashy pink Web site.
"People who want to buy pomegranate juice are not the people who want to have pomegranate juice tested on animals in labs," Friedrich said.
PETA started the boycott campaign last fall, Friedrich said, and to date only about 20 stores in the country — all on the West Coast — had agreed to it. PETA had not yet contacted New Leaf Community Market, another popular natural-food grocery store with outlets around the county. Still, the group accomplished what it set out to do, despite criticism from POM that the activists overreacted.
"Pomegranate juice, it's in the health food section of your store. It's concerned about the health of everybody," Faison said. "This is not a big multinational corporation that steamrollers over everybody. They want to be seen as the good guys"
As a result, Dickinson said he might restock the juice.
"I'm going to wait for direction from PETA," Dickinson said. "If they call me and say, 'We want you to support POM Wonderful now that they stopped doing it,' we would support the campaign."
---
PETA Victory! POM Juice Backs Down On Testing Animals.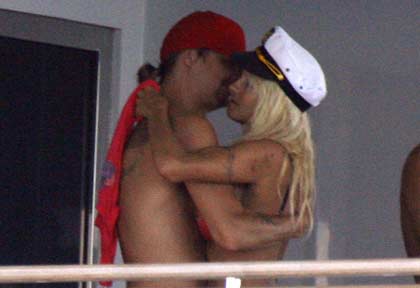 It appears that Pamela Anderson's and PETA's efforts to pressure POM into discontinuing tests on animals were successful.
The company released a note saying, "Neither POM Wonderful nor its related entities provide funding for ongoing animal testing on POM Juice (or POM Tea). Moreover, there are no plans to do so in the future."
A few months ago, PETA discovered that POM has been funding animal research in a bid to back up health claims related to pomegranate juice. The animals were submitted to cruel experiments, such as balloons inflated into live rabbits to study erectile dysfunction or baby mice were suffocated to the point of brain damage. PETA sent a letter to POM telling them to cease such tests immediately, but POM responded that it had absolutely no intention to.
Then PETA pulled out the big guns. Pamela Anderson. As we reported on, Pam took POM onto the battlefield, and with PETA, started a public relations nightmare for POM; which included videos, pictures, and an all-out boycott of the product in favor of POM's animal-friendly competitors. From the release,
"This is a huge victory for animals who are being tortured and killed in laboratories, and it exposes just how ridiculous the vivisection industry is as a whole—torturing animals to promote fruit juice! With this announcement, POM joins other compassionate juice companies like Welch's, Naked, Frutzzo, Old Orchard, Lakewood, and many others that have provided written assurances to PETA."
---
George Clooney Isn't Boinking Pamela Anderson
Jan 29th 2007.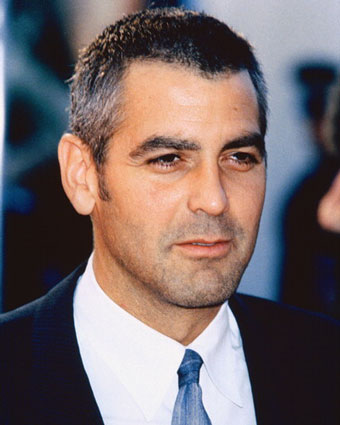 George Clooney has denied he went on a date with Pamela Anderson. It was alleged that the 45-year-old heartthrob and notorious womaniser had gone on a dinner date at California's Valley Inn restaurant with the former 'Baywatch' star on January 7.
The romantic evening was said to have ended with the 39-year-old actress sitting on his lap, but George has swiftly denied any connection to the busty blonde.
The actor immediately released an official statement through his representative, Stan Rosenfield, saying: "I worked with Pam seven years ago and haven't seen her since. And I've never been to that restaurant."
George - who was voted People magazine's Sexiest Man Alive 2006 - is constantly linked to female stars, most recently Renée Zellweger, but does not usually comment on rumours regarding his love life.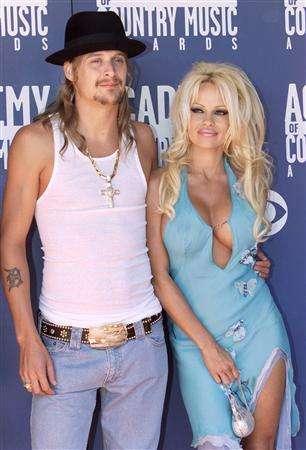 Did we really think it was possible that one of Hollywood's hottest men could possibly be dating the world's most overrated woman? Didn't think so. George Clooney firmly denies any reports that he is dating the former Baywatch star. Reports claimed that the 45 year old actor went to dinner with Pam, ending the night with her sitting on his lap. Not only does Clooney deny having met Anderson for dinner but he claims he hasn't even seen the blonde bombshell for over years.
Clooney's representative, Stan Rosenfield states on behalf of Clooney "I worked with Pam seven years ago and haven't seen her since. And I've never been to that restaurant."
Reports have even went as far as to claiming that the two celebrities have been walking their dogs together. A source from Life Style Extra says "George and Pam have been determined to keep this one quiet". But neither Pam nor George have confirmed any relationship between the two.
Pam recently split from husband Kid Rock last year (06) after a brief three month marriage, before which she was married to rocker Tommy Lee.