Paris Hilton Timeline/Chronology
February 17, 1981 - Paris Whitney Hilton is born in New York City to Rick Hilton and Kathy Hilton.
1999 - Paris earns her GED.
2001 - Paris has a cameo role in Zoolander starring Ben Stiller.
Oct. 31, 2002 - Paris adopts her teacip Chihuahua, Tinkerbell.
2003 - The Simple Life premieries, co-starring Nicole Richie.
2004 - Paris has a cameo role in the film, Win a Date with Tad Hamilton!
2004 - Paris successfully trademarks the phrase "That's hot."
March 19, 2004 - Paris is treated in the hospital after a horseback riding accident during the filming of The Simple Life 2.
June 9, 2004 - The sex video Paris made with Rick Solomon is released under the title 1 Night in Paris.
August 2004 - Tinkerbell is reported lost. Paris offers a $5,000 reward for her return.
Fall 2004 - Paris releases a book called Confessions of an Heiress: A Tongue-in-Chic Peek Behind the Pose.
November 2004 - Paris participates in Sean P. Diddy Combs' 'Vote or Die' campaign, then draws criticism after admitting she herself did not register to vote and did not vote in the election.
2005 - Paris lands her first lead role in National Lampoon's Pledge This!
February 5, 2005 - Paris hosts Saturday Night Live.
Feb 19, 2005 - The Seahorse Liberation Army publishes the contents of Paris' T-Mobile account on the Internet, revealing the phone numbers and e-mails of celebrities like Lindsay Lohan, Luke Wilson and Avril Lavigne to the public.
March 2005 - Paris is named "Sex Star of the Year" by Playboy magazine in their 25 Sexiest Celebrities list. Paris appears on the cover.
March 16, 2005 - Paris portrays Barbara Eden on the NBC drama, American Dreams.
April 2005 - Paris announces that she has ended her friendship with Nicole Richie.
May 2005 - A Carl's Jr. television commercial featuring Paris airs for the first time. The controversial ad promotes the "Spicy BBQ Six Dollar Burger" and draws the ire of conservative groups.
May 29, 2005 - Paris announces her engagement to Greek shipping heir, Paris Latsis.
Summer 2005 - Paris gives Tinkerbell to her mother, Kathy Hilton, after adopting a new, smaller dog named Bambi.
June 13, 2005 - Paris is offered $1.8 million to appear on the German version of Big Brother.
Sept 8, 2005 - Paris and Colin Farrell auction themselves off for a combined total of $220,000 to benefit the victims of Hurricane Katrina.
Paris Hilton's Other Career Tidbits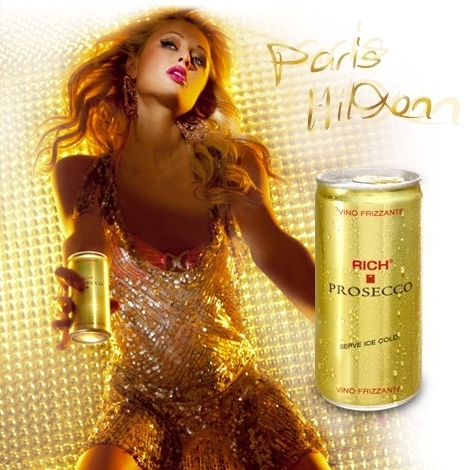 In 2004 Paris Hilton founded Heiress Records, a sub-label of Warner Bros. Records, and released her self-titled debut album, Paris, under that label on August 22, 2006. Although the album reached number six on the Billboard 200 for a week, its total sales volume has been low. All Music Guide commented that the album was "more fun than anything released by Britney Spears or Jessica Simpson, and a lot fresher, too." On the whole, critical reception was mixed. On July 16, 2007 Hilton confirmed that she was working on a new album with producer Scott Storch.
In 2004 Paris Hilton allowed her name to be used for a collection of purses for Japanese label Samantha Thavasa.
In 2004 Paris Hilton was paid to endorse a new perfume line by Parlux Fragrances, which boosted their sales 47%. The sales were so good they even released several fragrances for men.
In December 2004 "South Park" parodied Paris Hilton in an episode, during which she tried to buy the character Butters from his parents.
In 2005 Paris Hilton lent her name to a chain of nightclubs owned by Fred Khalilian and known as Club Paris. This association ended in January 2007 after she had failed to attend several scheduled promotional appearances.
In January 2007 Paris Hilton released the DreamCatchers line of hair extensions in partnership with Hair Tech International.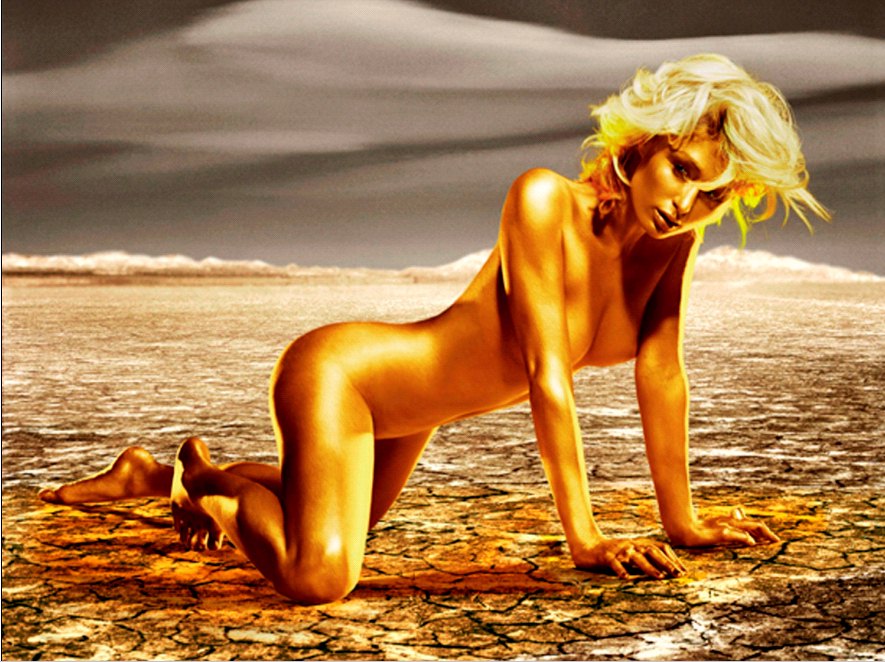 In August 2007 Paris Hilton signed a licensing agreement with Antebi for a signature footwear line, "Paris Hilton Footware", featuring stilettos, platforms, flats, wedges, and a sports collection, expected to reach stores in 2008.
In August 2007 Paris Hilton launched a line of tops, dresses, coats, and jeans at Kitson boutique in Los Angeles.
In December 2007 Paris Hilton posed nude covered in gold paint to promote Rich Prosecco, an Italian sparkling wine sold in cans rather than bottles.
Sculptor Daniel Edwards made a nude sculpture of Paris Hilton with her dog Tinkerbell in 2007. The sculpture shows Paris Hilton dead on the autopsy table.
Paris Hilton's Finances
In December 2007, Hilton's grandfather Barron Hilton pledged 97 percent of his estate to a charitable organisation founded by his father, the Conrad N. Hilton Foundation. An immediate pledge of $1.2 billion was made, with a further $1.1 billion due after his death. He cited his father's actions as the motivation for his pledge. The potential inheritance of his grandchildren was sharply diminished.
When Conrad Hilton died in 1979, he left nothing in his will to his children or other descendants. Barron Hilton contested this decision and won in 1988. It is presumed that when Barron Hilton dies his children will decide to also contest his will to gain access to that $1.1 billion. Paris Hilton's parents also own a $30.5 million mansion in Bel Air, a $12.3 million estate in the Hamptons, and a $10 million house in the Hollywood Hills in which she and her sister stay to give them privacy and for easy access to clubs in Los Angeles.
Paris Hilton's career of media attention and high paid modelling and promotional gigs have made her independently wealthy, but she lives extravagantly and spends constantly. It is unknown what the exact numbers are, but it is believed that she spends millions per year. She can afford it however. Paris Hilton currently makes about $7 million per year.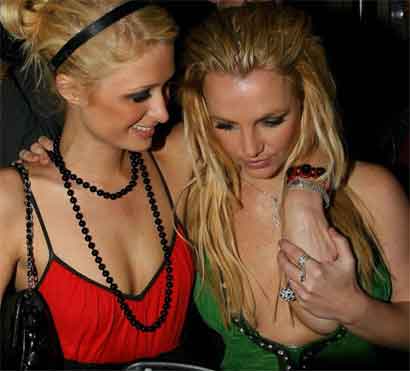 Paris Hilton & Britney Spears
Paris Hilton had a brief friendship with Britney Spears in 2006. The two went partying together but eventually went their separate ways as Paris Hilton found Britney Spears (and her kids) to be a drag on her party-girl lifestyle. Spears meanwhile had a media backlash as she flashed her naked vagina at reporters while getting out of Paris Hilton's car and made a number of social blunders. She eventually tired of Paris Hilton's continuous "party all the time" lifestyle.
The two celebrities are frequently compared by the media and the general public, and are the butt of "dumb blonde" jokes. In 2006 Britney Spears was voted the dumber of the two by an online poll. Paris Hilton is surprisingly media savvy and takes even the worst events in stride to promote herself (she even dressed in prison stripes once to mock her own jail sentence).
Paris Hilton's Love Life
Hilton was engaged to fashion model Jason Shaw from Summer 2002 to Winter 2003, and also to Greek shipping heir Paris Latsis from May 2005 to November 2005. Thereafter, she began dating another Greek shipping heir, Stavros Niarchos III, before breaking up in May 2006.
"I'm doing it just because I want to. I feel I'm becoming stronger as a person. Every time I have a boyfriend, I'm just so romantic, and I'll put all my energy into the guy, and I don't really pay attention to myself. One-night stands are not for me. I think it's gross when you just give it up. Guys want you more if you don't just hand it to them on a platter. If they want you, then they will wait. You have to make them work for it. I think that's the only way you know if they really want you or just want to be able to brag that they've been with you." -Paris Hilton, on Live with Regis and Kelly.
In January 2007, Hilton's private life created headlines with the launch of ParisExposed.com, a website that featured images of personal and medical documents, video, and other private material, allegedly obtained when the contents of a storage locker rented by Hilton were auctioned off due to lack of payment. CNN's Anderson Cooper 360 discussed footage obtained from the website which features Hilton using several homophobic and ethnic slurs. On February 3, 2007 Hilton obtained a temporary injunction against ParisExposed.com, closing down the website for a short period of time before it went back online.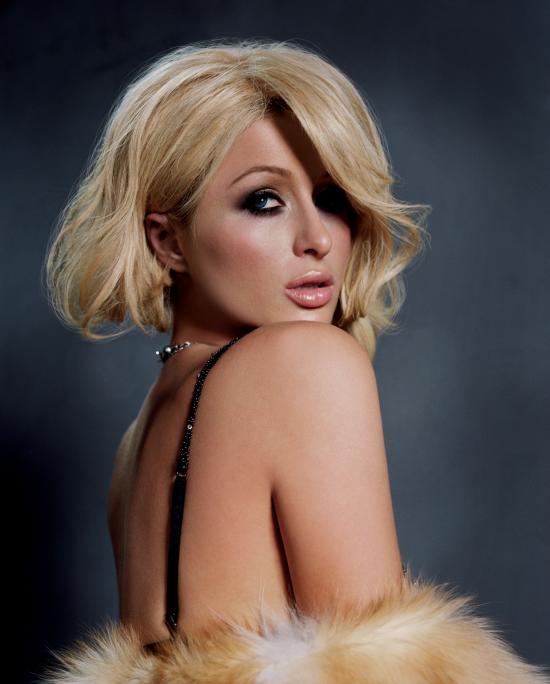 Paris Hilton's Books
In the autumn of 2004 Paris Hilton released Confessions of an Heiress: A Tongue-in-Chic Peek Behind the Pose and Your Heiress Diary: Confess It All to Me, an autobiography co-written by Merle Ginsberg.
The book is mostly full color photographs of her and Paris Hilton's advice on life as an heiress. Hilton reportedly received a $100,000 advance payment for this book. Reviews cite it as "amateur at best" and the book was parodied by Robert Mundell on The Late Show with David Letterman. Thanks to media attention the book became a New York Times bestseller.
Hilton also released a designer diary, again co-written by Merle Ginsberg, called "Your Heiress Diary: Confess It All to Me". In 2004 she also released "The Tinkerbell Hilton Diaries", faux authored by her dog Tinkerbell.
Paris Hilton Vs. Animal Cruelty
Hilton loves small dogs, and owns a Yorkshire Terrier and a female Chihuahua named Tinkerbell. Hilton is frequently seen carrying Tinkerbell (dubbed an "accessory dog") at social events and functions, and in all five seasons of television reality show The Simple Life. On August 12, 2004, Tinkerbell went missing after Hilton's apartment was burglarized, and a $5,000 reward was offered for her safe return. She was found six days later. By December 1st 2004, Tinkerbell was again spotted with Paris Hilton at various events. Hilton has also purchased a male Chihuahua as a replacement for Tinkerbell on July 25th 2007 from Pets of Bel Air in Los Angeles.
In 2007 after watching a graphic video by Heather Mills about animals raised for their fur Paris Hilton announced her support of vegetarianism and her opposition to wearing fur.
"From that point, I've never worn fur and I never will. I also haven't eaten any meat since. I just survive on pasta and stuff like that. I was grossed out. It was disgusting." -Paris Hilton.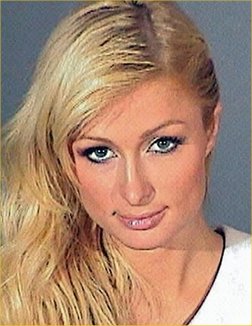 Paris Hilton Vs. the Law
In September 2006 Paris Hilton was arrested and charged with driving under the influence of alcohol with a blood alcohol content of 0.08%, the level at which it is illegal to drive in California. Hilton's driving license was subsequently suspended in November 2006, and in January 2007 she pleaded no contest to the alcohol-related reckless driving charge. Her punishment was 36 months' probation and fines of about $1,500.
On January 15th 2007 Paris Hilton was pulled over for driving with a suspended license and signed a document acknowledging that she was not permitted to drive. On February 27, 2007 Hilton was caught driving 70 mph in a 35 mph zone, again with a suspended license. She also did not have her headlights on even though it was after dark. Prosecutors in the office of the Los Angeles City Attorney charged that those actions, along with the failure to enroll in a court-ordered alcohol education program, constituted a violation of the terms of her probation.
On May 4, 2007 Hilton was sentenced by Judge Michael T. Sauer to 45 days in jail for violating her probation. Initially, Hilton planned to appeal the sentence, and supported an online petition asking California governor Arnold Schwarzenegger for a pardon. The petition was created and organized on May 5, 2007 by Joshua Morales. In response, various opponents started a counter-petition to maintain the sentence. Both petitions attracted tens of thousands of signatures. Hilton later switched lawyers and dropped her plans to appeal.
Hilton was required to begin her jail term on June 5, 2007, and checked herself into the Century Regional Detention Facility, an all-female jail in Lynwood, California after attending the 2007 MTV Movie Awards on June 3, 2007.
With credit for good behavior, it was anticipated that Hilton would only serve 23 days of her 45-day sentence; however, in an unexpected turn of events, Los Angeles County Sheriff Lee Baca signed orders on the morning of June 7, reassigning Hilton to 40 days of home confinement with an electronic monitoring device due to an unspecified medical condition. Baca commented on the release saying, "My message to those who don't like celebrities is that punishing celebrities more than the average American is not justice," contesting that under normal circumstances, Hilton would not have served any time in jail, and he added that "The special treatment, in a sense, appears to be because of her celebrity status ... She got more time in jail".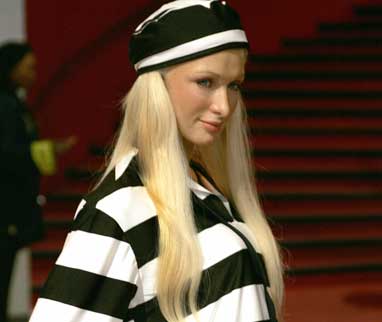 On the same day that Hilton was released from jail, Judge Michael Sauer summoned her to reappear in court the following morning (June 8) as the sentencing statement had explicitly said she would serve time in jail with "No work furlough. No work release. No electronic monitoring." At the hearing he declined to be briefed by Hilton's attorney in private chambers on the nature of her condition and sent her back to jail to serve out her original 45-day sentence. Upon hearing the sentence, Hilton shouted, "It's not right!" and started screaming, requesting to hug her mother who was present in the courtroom. Concern about Hilton's condition led to her being moved to the medical wing of the Twin Towers Correctional Facility in Los Angeles, and she was moved back to the Century Regional Detention Facility in Lynwood on June 13.
While in jail, Hilton was influenced by prison minister Marty Angelo: Hilton referred to starting a "new beginning" during her interview with talk show host Larry King on June 28, 2007, two days after being released from jail, and quoted from Angelo's autobiography, entitled Once Life Matters: A New Beginning. On June 9, 2007 Marty Angelo petitioned sentencing Sauer asking to serve out the remainder of Hilton's jail sentence if the judge would release her to an alternative treatment program, but the petition was turned down.
Hilton was released from jail on June 26, 2007. In total, Hilton served 22 days in detention, counting her day-long home confinement. Hilton announced she would be visiting Rwanda in November 2007 as a post-jail vow, but has since postponed the trip until an undetermined date in 2008.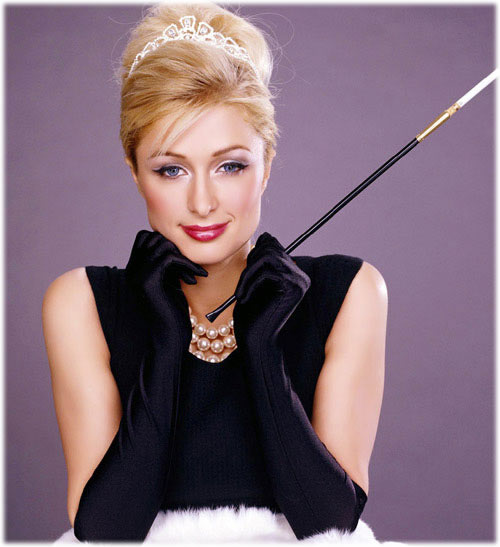 Paris Hilton Quotes
"The only rule is don't be boring." -Paris Hilton, Confessions of an Heiress
"I got my eye on you boy, and when I get my eye on something, it's like search and destroy." -Paris Hilton, "Not Leaving Without You"
"It hurts that, you know, the media's made me into sort of this like punching bag or cartoon character--they think that I don't have any feelings, and, you know, it hurts like anyone else." -Paris Hilton, Jul. 19, 2006
"A lot of women feel it's a man's world. Some people think all you need to do is marry a rich guy, and you don't need to do anything with your life.... I would hate that. I don't care whether he has money or he doesn't, because I don't need it, and that's a good feeling that I don't have to worry about that." -Paris Hilton, Jul. 8, 2006
"Iím an actress, a brand, a businesswoman. Iím all kinds of stuff." -Paris Hilton
"Every woman should have four pets in her life. A mink in her closet, a jaguar in her garage, a tiger in her bed, and a jackass who pays for everything." -Paris Hilton
"You should live everyday like it's your birthday." -Paris Hilton
"If you want my body and you think I'm sexy. Come on, sugar, let me know." -Paris Hilton, "Do Ya Think I'm Sexy"
"Life is too short to blend in." -Paris Hilton
"I don't want to be known as the granddaughter of the Hiltons. I want to be known as Paris." -Paris Hilton
"I'm judged because of something that an ex-boyfriend did to me. I'm not a slut at all. I've only had a few boyfriends. And I don't even do anything with anyone--it's just the media making stuff up ... I'm far less promiscuous than any of my friends." -Paris Hilton, Jul. 19, 2006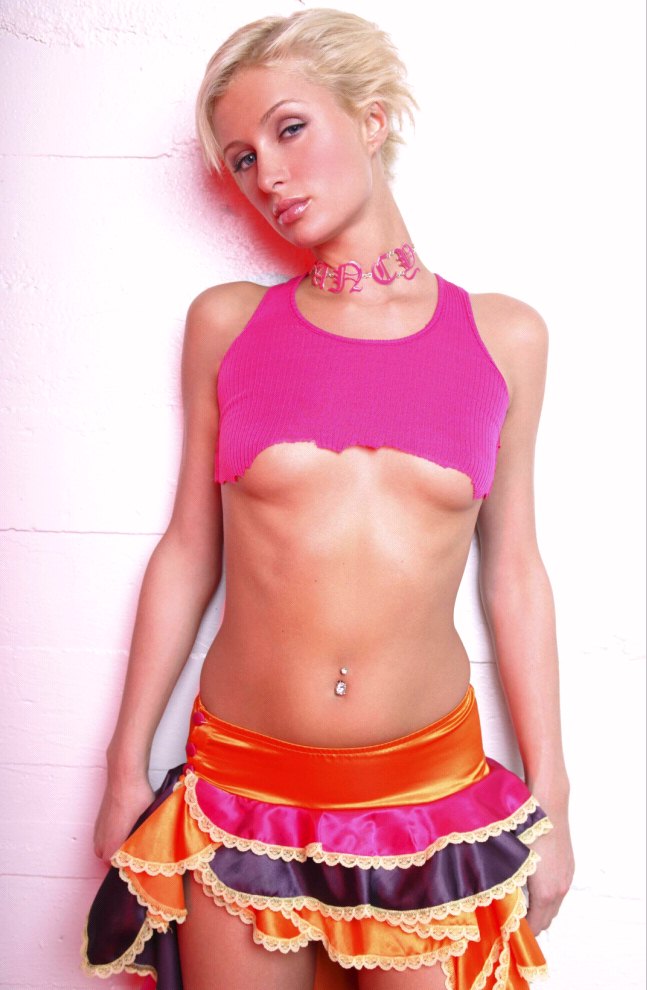 "It's sexier when a girl is flirty but she doesn't do anything." -Paris Hilton, Jul. 8, 2006
"I'm totally normal. I think it's obnoxious when people demand limos or bodyguards. I eat at McDonald's or Taco Bell. My parents always taught us to be humble. We're not spoiled." -Paris Hilton
"At parties, everyone always thinks I'm drinking--but actually I rarely drink. I live on energy drinks, basically. I LOVE Vitamin Water. I have cases in my house. I drink energy drinks and Vitamin Water all night. That's how I manage to stay up late and never smudge my makeup or mess up my hair. You can see all these girls leaving a party at the end of the night, and they look terrible because they were too out of it to reapply their makeup or even glance in a mirror. This is a huge mistake. People remember how you look when you leave as much as they remember how you looked when you arrived." -Paris Hilton, Confessions of an Heiress
"I don't enjoy going out anymore ... It's such a pain. It's everyone saying, 'Let's do a deal! Can I have a picture?' I'm just, like, 'These people are such losers. I can't believe I used to love doing this." -Paris Hilton, Jun. 14, 2005
"No matter what a woman looks like, if she's confident, she's sexy." -Paris Hilton
"People are going to judge me: "Paris Hilton, she uses money to get what she wants." Whatever, I haven't accepted money from my parents since I was 18. I've worked my ass off. I have things no heiress has. I've done it all on my own, like a hustler." -Paris Hilton, Aug. 18, 2006
"I didnít want to be like all these socialites Ė they sit at home, and go to the debutant ball, and marry some rich guy and thatís it. Thatís all they do. I wanted to do my own thing so I could buy whatever I want, do whatever I want." -Paris Hilton
"I first wanted to be a veterinarian. And then I realised you had to give them shots to put them to sleep, so I decided I'd just buy a bunch of animals and have them in my house instead." -Paris Hilton, Jul. 8, 2006
"There's nobody in the world like me. I think every decade has an iconic blonde -- like Marilyn Monroe or Princess Diana -- and right now, I'm that icon." -Paris Hilton, Jul. 17, 2006
"I don't think there's ever been anyone like me that's lasted. And I'm going to keep lasting." -Paris Hilton, Aug. 18, 2006
"People can't believe how hard I work.... I love it. I think it just runs through my veins. My great-grandfather was a bellboy and had a dream to do a hotel chain, so I think I get it from him." -Paris Hilton, Jul. 8, 2006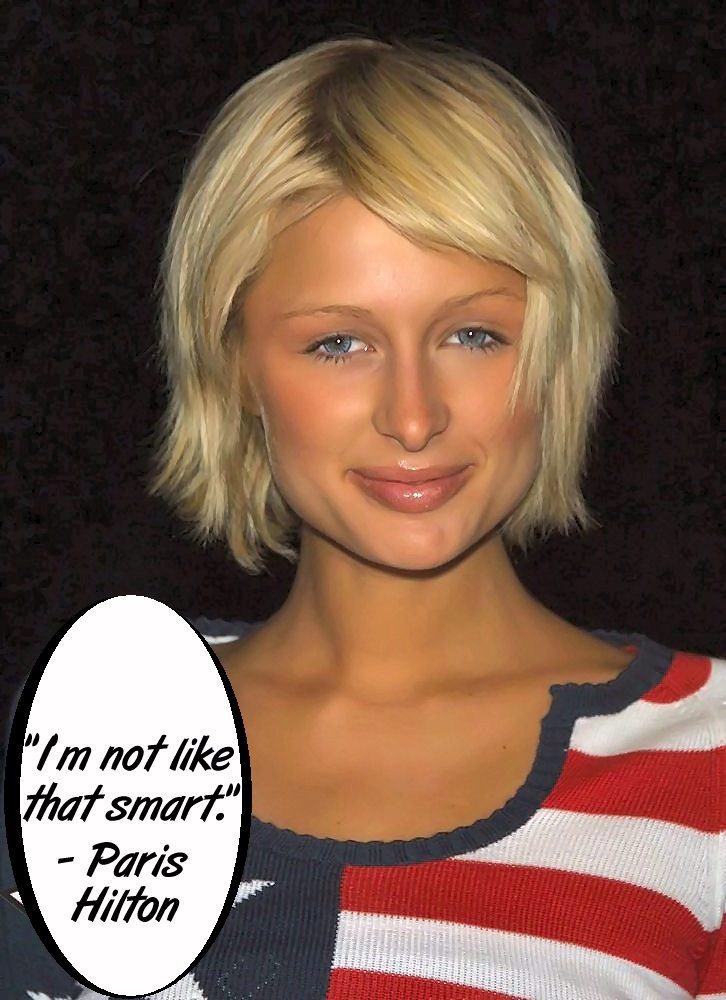 "You need to look like a lady at the Oscars. Otherwise, Joan Rivers will tear you apart. Then again, you aren't really anyone till Joan Rivers tears you apart. So wait until you are someone, then dress like a lady at the Oscars." -Paris Hilton, Confessions of an Heiress
"I don't want to be known as the Hilton heiress, because I didn't do anything for that." -Paris Hilton, Jul. 8, 2006
"Iím like an American princess." -Paris Hilton
"Not every heiress is famous. Or fun. There are a lot of boring heiresses out there." -Paris Hilton, Confessions of an Heiress
"I play dumb like Jessica Simpson plays dumb. But we know exactly what we're doing. We're smart blondes." -Paris Hilton, Jul. 17, 2006
"Iím not like that smart. I like forget stuff all the time." -Paris Hilton, law enforcement interview, Sep. 23, 2006
"There is no sin worse in life than being boring--and nothing worse than letting other people tell you what to do. I was one of the few heiresses to walk the runway as a model. A lot of people thought that was shocking. Why did I do it? Was it a desperate cry for attention, like the papers said? Hardly. It's not like I need any more attention. Did I do it for money? Of course not. Modeling doesn't pay that well, anyway, unless you're Gisele or Cindy Crawford, or, like Patti Hansen, you get to marry a rock star. I did it because it was fun." -Paris Hilton, Confessions of an Heiress
"I'd rather not do anything. Guys want you more when you don't. Young girls should know that." -Paris Hilton, Dec. 15, 2006
"Someone told me you start liking sex when you hit 30--but we'll see." -Paris Hilton, Jan. 6, 2007
"I donít have sex unless Iím in a relationship. Iím old-fashioned when it comes to that. I really am!" -Paris Hilton, Jan. 5, 2007
"I turn down perverted things, some sex things. Like a Paris Hilton blow-up doll ... They were like, 'They'll sell for $50,000 each, it'll be the real-life you.' And I'm like, 'I really don't want a real-life me with anyone, anywhere. No!" -Paris Hilton, Jan. 5, 2007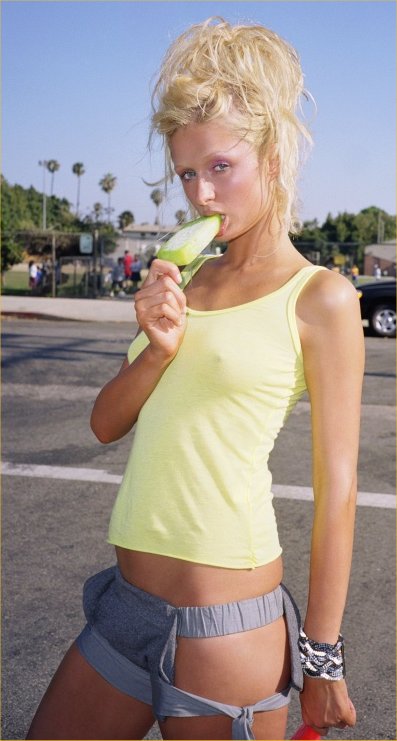 Paris Hilton's Stoned Look
Paris Hilton has a birth defect on her eyelid that makes her look like she is stoned on drugs all the time. It could be remedied with plastic surgery but she does not seem worried about it.
Paris Hilton Photo #01
Paris Hilton Photo #02
Paris Hilton Photo #03
Paris Hilton Photo #04
Paris Hilton Photo #05
Paris Hilton Photo #06
Paris Hilton Photo #07
Paris Hilton Photo #08
Paris Hilton Photo #09
Paris Hilton Photo #10
Paris Hilton Photo #11
Paris Hilton Photo #12
Paris Hilton Photo #13
Paris Hilton Photo #14
Paris Hilton Photo #15
Paris Hilton Photo #16
Paris Hilton Photo #17
Paris Hilton Photo #18
Paris Hilton Photo #19
Paris Hilton Photo #20
Paris Hilton Photo #21
Paris Hilton Photo #22
Paris Hilton Photo #23
Paris Hilton Photo #24
Paris Hilton Photo #25
Paris Hilton Photo #26
Paris Hilton Photo #27
Paris Hilton Photo #28
Paris Hilton Photo #29
Paris Hilton Photo #30
Paris Hilton Photo #31
Paris Hilton Photo #32
Paris Hilton Photo #33
Paris Hilton Photo #34
Paris Hilton Photo #35
Paris Hilton Photo #36
Paris Hilton Photo #37
Paris Hilton Photo #38
Paris Hilton Photo #39
Paris Hilton Photo #40
Paris Hilton Photo #41
Paris Hilton Photo #42
Paris Hilton Photo #43
Paris Hilton Photo #44
Paris Hilton Photo #45
Paris Hilton Photo #46
Paris Hilton Photo #47
Paris Hilton Photo #48
Paris Hilton Photo #49
Paris Hilton Photo #50