Reel Injun, Creation, The Road
The Entertainment eZine - TIFF Movie Reviews
---
This Website is Best Viewed Using Firefox
The Toronto International Film Festival 2009
The following is a short list of movies reviews from TIFF 2009, including Reel Injun, Creation and The Road. Please also check out: An Education, a movie review by Dennis Kucherawy.
Review by Dennis Kucherawy - September 2009.
The National Film Board`s Reel Injun is one of the best documentaries at this year`s Toronto International Film Festival.
Director Neil Diamond, a Cree from the James Bay community of Waskaganish and, of course, no relation to the singer, has created a very entertaining look at Hollywood`s inaccurate, frequently negative depiction of aboriginals, how studios reduced native people to stereotypes so outrageous that natives didn`t even recognize themselves. As Diamond says at the outset, that growing up he and his friends rooted for the cowboys during the Westerns they watched in Church basements and at residential schools.
Diamond uses footage from silent movies, from John Wayne and director John Ford Westerns to aboriginal directed modern-day films including Atanarjuat and Whale Rider to show the distance the movie industry has come. He also includes interviews with Hollywood stars Clint Eastwood, aboriginal actors Adam Beach and Graham Greene as well as various native directors, writers, journalists, activists and comics.
Native comic Charlie Hill tells how his favourite moment in Westerns was the pfft moment when native arrows flew through the air and struck their enemies. Another commentator says that natives in Dances With Wolves were in subordinate roles, supporting a story about a white guy with a mullet.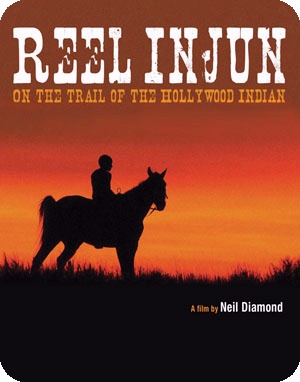 Hill comically compares the survival of natives to the Ever-Ready Rabbit. No matter what happens, it still keeps going, banging its drum. Hill adds that the rabbit should lead the Grand Entrance parade at powwows.
One of the best segments of the film is an interview with Sacheen Littlefeather who declined the Oscar for Best Actor on behalf of Marlon Brando at the 1973 Academy Awards. Brando refused to accept it in protest of the portrayal of aboriginals in movies and the stand-off at Wounded Knee between the American Indian Movement and the U.S. Marshals Service taking place at the time.
Diamond also shows footage at a native-themed summer camp run by White people where the children dressed in Indian costumes and war paint. He looks at the Walt Disney cartoon Pocohontas, its historically inaccurate telling of her story and how Disney created an idealized version of an Indian princess bearing no resemblance to real native women.
Aboriginal actor Wes Studi pays tribute to the great actor Chief Dan George and his role in Little Big Man.
This is a very important, educational and edifying film, paying tribute to the many tribes that comprise aboriginal North America and their rich culture and history. Moreover, it shows how mistreatment by Hollywood can foster ignorance and racism and deeply, negatively affect the psyche of a proud people.
See Also
Native Canadian Census - Canada's Booming Native Population
Ipperwash Returned to Native Hands
Inuit Midwives - The Evolution of Inuit Women's Birthing Practices
Creation
Review by Dennis Kucherawy - September 2009.
The theory of evolution, claim the makers of the new British film biography, Creation, is "the biggest single idea in the history of thought." So they set out to tell the story of Charles Darwin, author of the seminal and controversial book "Creation of the Species" that pitted empirical science against religious faith.
Rather than depicting the life of an icon carved in stone, director Jon Amiel (the TV mini-series The Singing Detective) sets out to tell the story of a devoted, loving family man, his deeply religious wife, Emma, and their mourning of the death of their second child, 10-year-old Annie from infantile tuberculosis. Set in the 1850s between the time of her death and the publication of "Origin of the Species," Creation is a story about grief and loss set against a backdrop of science and domesticity and the war between science and religion.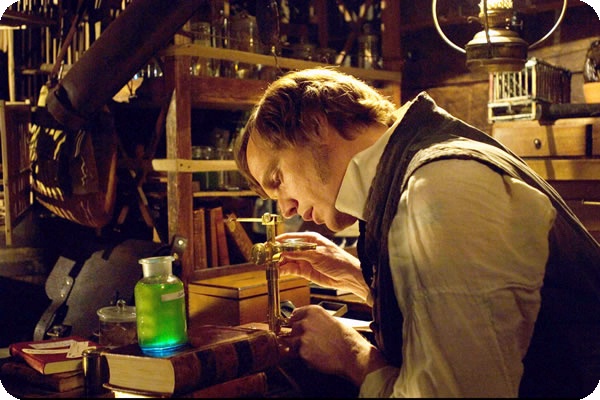 The story examines Charles Darwin's inner psychological turmoil and guilt, going back and forward in time through a series of imaginary conversations he has with Annie as he is haunted by her death and growing estrangement from his wife.
Charles asks Emma to read and edit the manuscript of Origin of the Species even though it is antithetical to everything she believes in. She believes that if she approves of it, she will jeopardize her immortal soul.
Paul Bettany as Darwin delivers a wide-ranging, emotional performance, more than Jennifer Connelly's limited performance as Emma. Married in real life, their arguments have a feeling of two people who know how to push each other's buttons.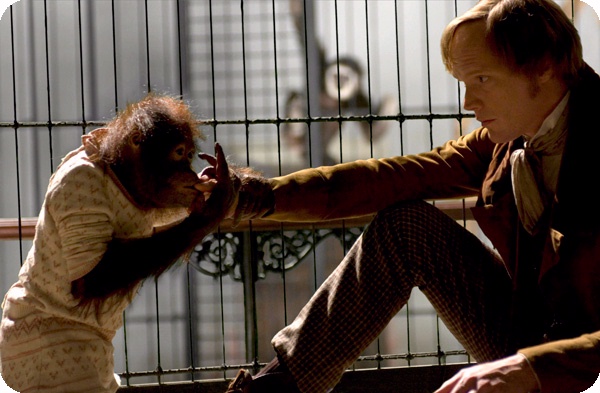 Produced on the occasion of the 200th anniversary of Darwin's birth and the 150th anniversary of the publication of "Origin of the Species," Creation is an interesting but not very entertaining or memorable film. Based on the book "Annie's Box: Charles Darwin, His Daughter and Human Evolution" by his great-great-grandson Randal Keynes (who is also a descendant of the great economist John Maynard Keynes), the film is beautifully shot in the English countryside.
At the TIFF screening, director Jon Amiel said that survival of the fittest is not about the survival of the most powerful. It is about how we are all part of the animal and plant kingdoms' continuum and how, if you upset any part of it, it falls apart....an important message for today's world.
That said, it is nevertheless puzzling why this film was chosen as TIFF's opening night gala presentation, the first non-Canadian movie since 1976. It's an interesting movie, but not a great one and is unlikely to attract a wide audience. It has a Canadian distributor, but not an American one which raises the suspicion that perhaps the theory of evolution and natural selection may still be too controversial for the Bible belt areas in the United States and American South. As we know, a lot of lesser films have American distributors.
See Also