Ugly Betty is Beautiful
and a Fashion Craze!
The Something eZine - Fashion
---
This Website is Best Viewed Using Firefox
Ugly Betty represents a new standard for beauty
David Graham - January 27th 2007.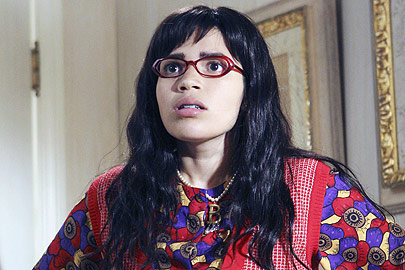 From her Groucho Marx eyebrows to her protruding braces, her vintage "Guadalajara" poncho to her clashing sweater vests, the curvy Betty Suarez certainly sticks out from the stick figures she works with at the fictional New York fashion magazine Mode.
Much fun is made of the notion that Suarez is not the magazine's most comely employee. But as the central character of the hit TV series Ugly Betty, Suarez, played by Latina actor America Ferrera, is a rare beauty, inside and out. And despite the Mean Girl taunts of her co-workers, Betty's the cool one.
The show's stylists were wise not to dress her too badly. Unlike the clownish and sharp-tongued Mimi on The Drew Carey Show, Betty has a clear sense of style, though the overall look is sometimes muddled. Thankfully she resists the temptation to make herself over. Only at the recent Golden Globe awards, where the show won best comedy and Ferrera won for best actress, did most viewers catch a glimpse of Betty's potential.
It's the powerful impact of her hair, brows, glasses, braces and wardrobe that complete Betty's dorky persona. By deconstructing her look, however, it's clear that Betty is a cunning creation. Patricia Field who famously created the looks for Sex & the City, also envisioned the template for the pilot of Ugly Betty.
Betty's costume designer Eduardo Castro walks a fine line, portraying the sweet girl from Queens as a junior employee on a budget but with a subversive nod to fashion nonetheless.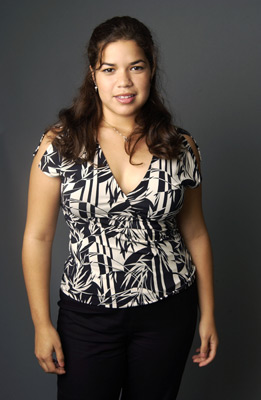 From her tartan kilts to her boisterous tie-front blouses and knit sweater vests, Betty's wardrobe can be found in many of Toronto's trendy stores. In London, hip stores like Topshop and H&M can't keep the elements of her look in stock.
So we decided not to look at the larger, nerdier picture. Rather, we separated Betty into smaller, manageable pieces. Her red prescription glasses are right on target. So is her quilted ski jacket. And her Guadalajara poncho, well, not so much.
Stylist Derick Chetty found most of the key Betty elements at H&M and The Bay. Check out ABC's SeenOn! section of its website at abctvstore.com for selected pieces worn by characters in the show. Ugly Betty pieces are posted right after each episode.
It may be surprising to some, but Betty is being touted as the new Carrie Bradshaw, prompting one reviewer to comment, "No TV character had exercised such a direct influence on women's sartorial choices – until now. And it's the most unlikely style icon you'd ever imagine, the absolute anti-Carrie Bradshaw: It's Ugly Betty."
Our Enlightened Shopper columnist, Kim Honey, examines Betty's coloured grillwork and sheds some light on the modern world of adult orthodontics. Professional shopper Angela Koszuta checked out the malls for examples of Betty's famous blouses. And business writer Surya Bhattacharya, who has spent a lifetime taming unruly hair and understands fully the trials of the full-browed woman, combs the city for solutions.
Some popular culture watchers are wondering if we are experiencing a sort of Betty Mania. Does she represent a shift in public opinion? Are we growing weary of Paris Hilton and Jessica Simpson? Is ugly the new beautiful?
If the Bettys of the world have their way, a new generation of leading ladies will be judged more by the content of their character than the content of their closets. The pendulum has swung.
Perhaps we can credit Pink for her role. Her video for "Stupid Girls" "mocks Hilton and her shopping zombie peers for their essentially somnambulant behaviour," wrote Rebecca Traister on salon.com.
This is in direct contrast to "an alarming new vogue for feminine vapidity," says Traister, who wondered if "playing dumb seems a sure way to get embraced by the American public." Enter Betty, a complex personality and a tenacious problem-solver with a good heart.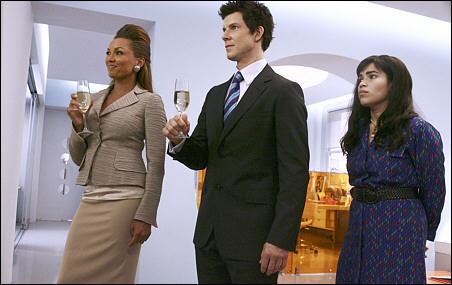 And there's more good news.
While Betty watchers wonder who will take over as editor-in-chief of Mode, Toronto author Richard St. John actually has his money on Suarez. According to St. John, it's Betty who has the makings of a success story.
His soon-to-be launched book Stupid, Ugly, Unlucky and Rich (What Really Leads to Success – And It's Not Smarts, Looks or Luck) Betty, neither stupid nor particularly unlucky, has the advantage of being aesthetically challenged. But St. John insists it is this apparent disadvantage that will propel Betty to greater status.
St. John, who divides the world into Average-Looking People and Beautiful-Looking People, is convinced ALPs try harder.
"Many beautiful people tend to sit back in their comfort zone and rest on their looks. And why not? Doors get opened for them." As Pink sputters in "Stupid Girl," "I'm so glad that I'll never fit in / That will never be me / Outcasts and girls with ambition / That's what I wanna see."
Stay tuned.
---
Betty Mania
Derick Chetty, Stylist - January 27th 2007.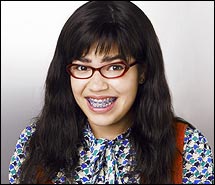 Ah, the sweet irony. Who would have guessed that the most unfashionable character on television today would be the unexpected fashion icon of the season?
With her woolly ponchos, garish prints, secretarial blouses and sweater vests, Betty Suarez is the title character on Ugly Betty. Now, the style-challenged employee at a glossy fashion magazine has young hip viewers scrambling to copy her look.
And fast fashion stores like H&M – always on the cusp of the latest trend – are stocking what could best be described as the Ugly Betty look. Separately, the items' bold prints and colours have a retro '70s look. But put that knit dress with a sweater vest and cinch with a big belt and, in certain hip circles, you would be labelled with the title that eludes Betty: cool.
---
Ugly Betty
Matthew Berlyant - April 26th 2006.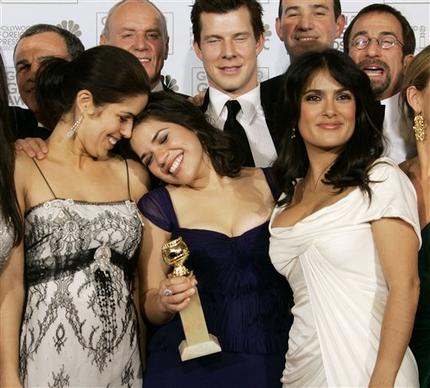 A few weeks ago as I was walking along Ditmars Boulevard, towards the subway, I saw a few trailers and film crews and noticed that a movie or TV show was being filmed in a house nearby. I read the poster for it on a lamppost, and found out that it they were filming a Disney TV show called Ugly Betty, and that it stars AMERICA FERRERA, who is perhaps best known for her roles in the movies Real Women Have Curves and Sisterhood of the Traveling Pants.
I did a search and found out that she plays the title character, an 'ugly' secretary trying to advance herself in the rough and tumble world of the Manhattan publishing industry.
Of course, this raises a few questions. Aside from the slightly troubling realization that my Queens neighborhood may be becoming a hip setting for films and TV shows, the bigger issue I have is with the title of the show and the actress playing the title character. Don't get me wrong: Obviously this show is still being filmed and I don't like to judge things before I see them, based on their titles alone.
Regardless, America Ferrera is not ugly. She's a rarity in that she's a relatively normal, real-looking woman in an industry dominated by anorexic-looking model-types. Once again, it just shows how skewed television's perception of 'ugly' is. In Hollywood, any woman who doesn't fit a particular mold is automatically classified as fat and unattractive, when in many cases, this is far from true. I automatically have a bias against this show from the start, even though I'm curious to see it, especially since it was filmed in my neighborhood.
I don't mean this to come across as a feminist rant. It's just that I believe attraction and beauty are in the eyes of the beholder. I'm opposed to someone else (like a TV show) telling me who's 'ugly' or not. Beauty can and should encompass all shapes and sizes. And yes, for the record, "I like big butts and I cannot lie," as SIR MIX-A-LOT once famously sang.